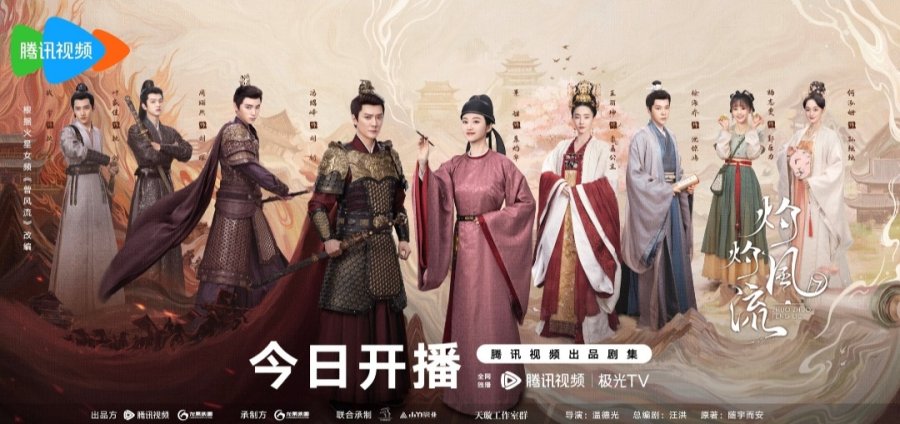 Sinopsis
menceritakan tentang Mu Zhuo Hua yang menjadi pejabat wanita yang telah melalui banyak kesulitan hingga membawa kemenangan.
Awalnya Mu Zhuo Hua terlahir dari istri selir yang dianggap sebagai anak tidak sah. Saat dewasa Mu Zhuo Hua dipaksa untuk menikah hingga ia akhirnya berhasil melarikan diri ke ibukota dan berusaha membangun karirnya hingga menjadi pejabat wanita.
Saat perjalanan menapaki karir, Mu Zhuo Hua bertemu dengan seorang panglima perang bernama Liu Yan yang kalah dalam peperangan namun memiliki sikap pantang menyerah.
Liu Yan menunggu waktu untuk membalaskan dendam atas kekalahan yang ia terima saat peperangan.
Keduanya akhirnya saling bekerja sama satu sama lain untuk mencapai tujuan masing - masing yang menumbuhkan benih - benih cinta diantara mereka berdua.
Details
Drama: The Legend of Zhuohua
Native Title: 灼灼风流
Also Known As: Nv Ren Bu Hao Hao Du Shu Shi Yao Jia Ren De , 女人不好好读书是要嫁人的 , 曾风流 , 灼灼風流 , Zhuo Zhuo Feng Liu
Director: Wen De Guang
Genres: Historical, Romance, Fantasy
Episodes: 40
Aired: Aug 19, 2023 - Sep 13, 2023
Aired On: Monday, Tuesday, Wednesday, Thursday
Original Network: Tencent Video
Duration: 45 min.
Country: China
~~ Adapted from the web novel "Ceng Feng Liu" (曾风流) by Sui Yu Er An (随宇而安).
Main Role
Jing Tian - Mu Zhuo Hua
Feng Shao Feng - Liu Yan
Wang Li Kun - Princess Rou Jia
Zhou Yi Ran - Liu Chen
Xu Hai Qiao - Shen Jing Hong
Support Role
Ye Sheng Jia - Zhi Jian
Yang Zhi Wen - Guo Ju Li
Zhao Huan Ran - Liu Yu
Wang Jun Bi - Man Er
Zhan Yu - Zhi Mo
Shi Yue Ling - Empress Dowager Zhou
Zheng Guo Lin - Liu Ju
He Hong Shan - Sun Yun Yun
Ji Chen - Xue Xiao Tang
Zhang Yan Yan - First Madame Mu
Huang Hai Bing - Mu Rong
Zhang Mian Chen - Liu Jin
Sonya Fu - Madame Lu
Ye Huo - Xi Fa Shi
Wang Zi Rui - Sun Yun Qian
Cao Xi Yue - Mu Ba
Chen Zi Han - Song Yun
Fu Miao - Gu Yi Xiao
Zhu Zhi Ling - Fang Zhi Yuan
He Qiang - Sun Ru
Hou Chang Rong - Shang Shou
Qu Gao Wei - Ye Mu Jing
Zhang Xiang - Zhuang Wen Feng
He Yong Sheng - Zhou Ci Shan
Dong Yan - Yun Xiang Yue
Gao Wen Feng - Wen Shi Zong
Jing Ci - Ye Mu Zhen
Zhao Shi Yi - Pei Lan
Zhang Lei - Zhuang Zi Xian
Zhang Rui Jia - Zhen Guo [Elder Princess]
Wei Zi Yang - [New Head Eunuch]
Bi Han Wen - Butler Zhou
Long Bin - Butler Zhang
Feng Da Lu - Chief Wei
Li Jia Wei - Empress Xu
Wang Kun - Old Madame Zhuang
Chen Xu Ming - Lu Yuan Shi
Xiang Hao - Bai Yu Xiao
Zhou Yao - Hua Qing Chen
Dong Xiao Bai - Xing Er
Song Zong Xuan - Liu Xi
Yan Jing Yao - [Sun Yun Qian's mother]
Tan Li Min - [Xiao Qin Gong's mother]
Chen Li Wei - Han Lin Yi
Geng Da Yong - Han Lin Ding
Xu Peng - Scholar Jia
Yang Chun Rui - Censor Yu
Guest Role
Zhang Da Bao - [Head Eunuch]
Pei Jia Xin - Rou Jia [Teen]
Xu Dong Ming - Shen Jing Hong [Young]
Oscar He - Liu Ju [Young]
Co Co Chen - Mu Zhuo Hua [Young]
Xu Wai Luo - Liu Yan [Young]
Sissi Yin - Rou Jia [Young]
Yue Dong Feng - [Qing Yin Zhai Boss]